Free With Your Genealogy Chart Printing Order

Most charts (size permitting) will arrive inside of a durable, high-impact three-inch diameter, polystyrene storage tube with vinyl end-caps that can be used for permanent storage. The storage tube will be labeled with the contents and date that your chart was printed. See storing your charts for further details.

Charts that are printed on our standard 24 lb. paper which are about 40 feet wide or less will fit in these storage tubes. If you have us print your chart on heavyweight 35 lb. paper, the maximum length that will fit in a storage tube is about 30 feet. If your chart is longer than this, we recommend that you save the original shipping container and polyethylene tubing to protect your genealogy chart for permanent storage.
Plus you'll also receive a coupon good for 10% off on your next genealogy chart printing order!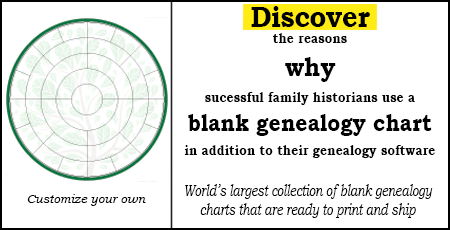 Please call us at 630-653-8400 (international callers can also see below) or e-mail us at sales@ancestryprinting.com if you have any questions about our family tree printing services.