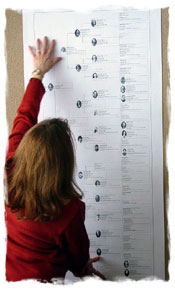 You've taken a journey that few people will ever duplicate. Now is the time to show off your family tree.
Family Tree Printing Prices
If you're now at a point where you want to see and share the results of your genealogy research, and you need a printer who not only specializes in printing family tree charts, but who also cherishes the value of what you've created as much as you do, we hope you'll consider us for the job. Because genealogy is also our passion, we believe that we're well qualified to help you bring your family history to life in the form of a beautifully printed family tree chart.
Calculating Your Family Tree Printing Costs
Your cost for printing any of your family tree charts is going to depend on the following three things:
How long and how tall is your family tree chart (in feet)? We can print your chart in either portrait or landscape mode.
Will your family tree chart require 24", 36" or 42" wide continuous roll paper?
Is your family tree chart black & white with text and lines only; does it have photos, colored boxes or clip art; or does it have a colored background?
Once you can answer these 3 questions, you can easily determine the cost of printing your family tree chart(s) from the table below or from our order form. There is no need to figure out square feet. Don't forget to find out what's yours FREE with every family tree printing order.
Cost Per Linear Foot* For Printing Your Family Tree Chart
Paper width
(continuous roll)
Black & White
Text & Lines Only
With Photos,
Colored Boxes,
or Clip Art
With Non-White
Background or
Fan Charts with Solid Colors
24" wide paper
$3.50 per foot
$5.00 per foot
$7.00 per foot
36" wide paper
$5.25 per foot
$7.00 per foot
$9.00 per foot
42" wide paper
35 lb. heavyweight
$7.00 per foot
$9.00 per foot
$12.00 per foot

All prices are based on using 24 lb. bright white paper with the exception of our 42" paper which is only available in 35 lb. heavyweight stock. Optional 35 lb. heavyweight paper is also available for 24" & 36" widths for 20% extra.

* Note: Our charges are per linear foot - not per square foot. A chart that measures 3 feet by 10 feet is 30 square feet, but only 10 linear feet.

All orders are covered by our
money-back guarantee
if you're not completely satisfied
with our work.

So, as an example, if you have an 8 foot long family tree chart with some photos or clip art on it that requires 24" tall paper, your total charges would be 8 X $5.00 = $40.00 plus a base charge of $15 for each chart printed. Shipping and handling is normally around $19.95 for charts on 24 inch paper, $24.95 for charts on 36 inch paper, and $29.95 for charts on 42 inch paper. These S&H rates are per chart for domestic orders and include a single permanent storage tube. If you're ordering more than a single copy of a family tree chart, each additional chart will be discounted by 15%. Additional charts which are included in the same permanent storage tube are not subject to the full additional S&H charges since we are not providing an additional storage tube. To place your printing order, please take the next step and obtain our family tree printing order form or simply sending us your data file by e-mail. You can also read further information about submitting your order.
Chart Design Charges
Design charges are not included in our basic printing charges that are shown above. If your chart is not already completely designed and print-ready, or if we will need to import your data from an online service or from a GEDCOM file and do the design work, a design charge will also apply. Our design charge is $45.00 for a basic design and is payable prior to the time we begin work. Enhancements which require additional time are extra. If you would like us to do the design work for you, make sure that your data is complete and accurate before we start our work, otherwise you will be responsible for additional design charges for edits, corrections, and additions which you have us make after the initial design is completed. Having us do the design work does not commit you to moving ahead with printing if the size or price of the chart doesn't work for you. We can also review a chart design that you've prepared prior to printing and give you recommendations for any changes. The charge for review and recommendations is $25.00. Please see our page about printing from a GEDCOM file for furthe r details.
The vast majority of the time our customers have reviewed their data carefully before sending it to us and they completely and accurately describe the type of chart that they'd like designed so there normally aren't any problems. To avoid any future misunderstandings, our nominal $45.00 fee per design covers our time on the initial phone and email correspondence, the actual design work, the creation of a non-printble PDF preview which we email you for your approval prior to printing, and follow-up correspondence via phone and/or email. We don't overcharge up front to cover any changes that our customers may want to make that they didn't communicate to us originally. This also applies to any errors or omissions that are present in your data that you didn't notice or correct before we did the design work, and which would require a new design to be prepared. You are certainly welcome to make as many changes or modification to either the data or type of chart you'd like after you see your design in PDF format; however, there will be a new $45.00 design fee for each time we need to make modifications to your data or prepare a new design. Our $45.00 design charge is a per-design fee and not an open-ended arrangement to continue to make additional changes, corrections, or additions to the original design or data. So any modifications to either the data or layout means a new design has to be created and therefore there will be a new $45 design charge. If the design process also includes numerous and/or lengthy exchanges of email, then we have to increase our charges to cover our time spent. So to keep your design charges at a minimum, make sure that you have carefully reviewed your data for errors and omission before we begin the design work, and tell us exactly what you want the first time around to keep your design charges low.
We're so sure you'll love our genealogy printing services that we confidently provide a complete money back guarantee on all orders. We look forward to being able to work with you and your family so that you can enjoy the excitement of having a printed genealogy chart. If you haven't already done so please watch the video about our services and see examples of charts which we can design for you if you're not designing your own chart.
Please call us at 630-653-8400 or e-mail us at sales@ancestryprinting.com if you have any questions about calculating the cost of printing your family tree charts or submitting your order. International callers can also Skype us if preferred; however, we ask that you email us to set up a convenient time for a Skype to Skype call.  We are located in the central time zone of the U.S. (GMT/UTC-6 and -5 in the summer), and can make arrangements for incoming Skype to Skype calls up to around 10:00 PM local time on most nights. We only accept Skype to Skype calls that have been pre-arranged by email. 
Passing family stories on from grandmother to grandson
is easier with a printed family tree to serve as a road map.