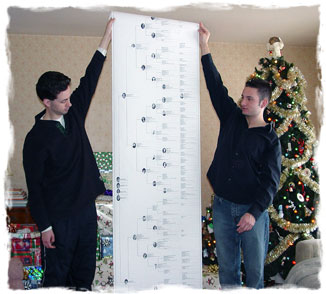 Sharing your family tree with others
is especially fun on holidays, birthdays
or any time your family gathers together.
Testimonials About Our Family Tree Printing Services
We take great pride in printing family tree charts that our customers can be proud to show off and share with others. Since genealogy is also our passion, we know how important each and every detail can be to our customers. That's why we take the extra steps to make sure that our customers receive exactly what they were expecting. Sometimes this means reviewing a chart before it's printed and recommending a slightly larger font. Other times, it might mean recommending a different layout or template. Whatever your family tree printing needs are, we're here to help you.
We're always especially grateful when a customer takes the time to give us a phone call just to let us know how pleased they are with our work. We don't record our phone conversations, but here is a sampling of some of the e-mails we've received from our customers.
What Our Customers Are Saying About Our Family Tree Printing Services
Hello Larry, I just received my chart and it is absolutely BEAUTIFUL!! The quality absolutely exceeded my expectations. Even the tube/packaging is high quality. Thank you so much! Me, my dad (who is from Norway) and my daughter are going to Norway in June to visit family. There will be a family reunion while we're there and I think my cousins are going to be very impressed with the chart!
All the Best, Heidi K. (Irvine, CA)
Hi Larry, I looked at all of the trees. An extremely nice job, it looks "more than great". I'll be back again one day. Thanks again. Awesome.
Rick O. (Draper, UT)
Larry - They're here and they are absolutely TERRIFIC. I started gathering this information, off and on, over 20 years ago and seeing it in one cohesive piece is just fabulous... just unrolling them brought tears to my eyes. When we hand these out later in the week to various relatives in Germany they will be gifts that will "keep on giving".
As it is, my daughters (ages 16 & 12) have been absorbed by our copy for the past 2 hours. No doubt I will be returning home with additional information and will require reprints in no time.
Thanks again for the fabulous service and excellent work, Alex T. (Denville, NJ)
I received the charts in five days and in excellent condition! I'm thrilled with the way they look, they are exactly what I wanted. Thank you so much for working with me to insure the best cost value. I appreciate saving nearly $100. It's wonderful to have someone that understands a home genealogist's large chart printing requirements as well as understanding how to use and print from Family Tree Maker. I look forward to working with you again in the future.
Thank you again, Bonnie M. (Lynden, WA)
Hi! I got the printouts last Friday, and they're terrific! It's so cool to see all that work in one place. My family will love it this summer. Thanks so much for offering this service. I'll be using you again, when my other trees become more populated. It's so hard to find good customer service these days, I'd love for my words to promote your company.
Thanks again, Michelle E. (Alberta, Canada)
Larry, Yesterday was our first family reunion in 35 years. I have to say, having you print the family tree was the best decision I made in planning this reunion. It was the "belle of the ball". The weather was perfect in middle Georgia to set up under the trees outside. It took 10 eight-foot tables to display it, which was quite impressive. I used a black plastic runner under it, and a clear plastic runner on top of it to protect it from little fingers. There is no way to truly express my gratitude to you for making the printing process so easy. I was really nervous about turning it over to anyone, but you made me feel very comfortable about the entire process. I must add, I also love the storage containers you package them in!! It was so easy to pack it back up after the reunion, and I know it will be safe until I pull it out again!
Thank you again. LaDania N. (Columbus, GA)
You guys were fantastic! I had a very hard time trying to set it up correctly to save the chart alone, and my Share button, which is supposed to let me save it as a one page PDF, doesn't work. Ancestry is still trying to figure that one out. I'm sure I'll get more printed around this time next year with all the updates they will make. I am asking them this year to also send me head shots for all the people on it. I really would like to have photos added at some point too. That just adds so much more to it!
George S. (Cincinnati, OH)
Hello Larry, I am very happy to say that my order has arrived today & that I am very pleased with it. I would like to say I appreciate your helpful service to your customers, something which is often neglected by many in business today. When I am ready to update my family tree further, I will be happy to contact you again in the future.
Regards, Michael W. (East Sussex, England)
Dear Larry, I am so impressed with your services at Ancestry Printing. I received the scroll right away, and had it for my upcoming family reunion. It was quite a hit. People were very impressed, and enjoyed looking at it. It was very beautiful, and easy to read. Thank you again for everything--all the phone calls and getting it to me so quickly. I hope to work with you again soon in the future for my side of the family. I will recommend your services to my family and friends.
Sincerely, Laura R. (Iowa City, IA)
Larry, I just want to express my sincere thanks; you are the most "customer friendly" person I know. You were extremely helpful throughout the entire process. I truly enjoyed the "seamless" guidance in submitting my chart; you made it seem so easy! Once again, I thank you and look forward to seeing my 80' chart. I cannot believe it.
Dr. Ronald M. (Las Vegas, NM)
Larry, Thanks so much for all your work. The family tree printout was the hit of the reunion - we had more than half the people on the tree in attendance, and it enabled everyone to see how they are connected to each other. Everyone also annotated the tree with more information like birthdates, birthplaces and such.
Lastly, if you ever need a recommendation, I'd be happy to provide one. Having run marketing groups in the past, there are big differences between vendors. You are one of the best I have ever worked with - your production expertise was vital to completing the tree, and your service levels are impeccable - you were very responsive, up front, and creative in your problem-solving. My family and I genuinely appreciated the product you helped me create.
Thanks again. Regards, Ed J. (Brooklyn, NY)
Hi Larry, The family tree chart arrived this afternoon. We are just blown away! It is fantastic!!!!! Thank you so much for all your help and suggestions. It will be a big hit at our upcoming family reunion. I'm really glad that it is printed on the heavyweight paper. For extra protection I'm going to top it with continuous sheet of clear plastic. I'm so thrilled with this tree that I'm going to work on doing the same for my family. You'll be hearing from me again soon.
Again, thank you for all your assistance. Claire A. (Chelmsford, MA)
Larry, The new chart is great. Thanks for your quality work. Your suggestions on format and font were very helpful.
George K. (Venice, FL)
Good afternoon Larry, I am writing to thank you for the wonderful job Ancestry Printing did on our family tree. Needless to say, everyone was amazed by the tree and had nothing but good things to say. So on behalf of my family, Thank you. Personally, I would like to thank you for your patience and willingness to work with me throughout the design process. Your knowledge and kindness helped me deal with ALL the stress of working with family. Several people asked for your information and I was happy to pass it on. Again, thank you and I look forward to working with you again in the future.
Sincerely, Vee M. (Chocowinity, NC)
Larry, Thank you very much for the speedy printing and shipping of my ancestral charts. They arrived today and look amazing. I will definitely be using your services again to print the remainder of my charts. I look forward to doing business with you again.
Helen K. (Cordova, TN))
I have used Ancestry Printing twice now for printing our family tree to hang at our family reunion. The document is always a big hit and a great way to bring generations together. The most touching photos are always the images of the grandparents pointing at the photos and telling stories to the younger children. One of my cousins started crying the first time he saw it, saying, "this is my family...I get it now." All this was made possible because of the great work done by Ancestry Printing. They are experts in the art of printing family trees and the customer service is phenomenal! Larry is responsive, patient and knowledgeable. I would not trust our family history to anyone else.
Madelyn M. (Oakland, CA)
Hello Larry, Just received my family tree in the post this morning and to say I am pleased is an understatement. Thank you very much - it is great. No doubt I will be back to you in the future when I need some more printing. Once again, thanks.
Ian E. (London, England)
Hi Larry, The chart was a HUGE hit at the reunion. At least 4 people want to order a copy. One of my cousins (whom I had not seen in FORTY YEARS! I can't believe we are that old!) took a video of the chart, starting at one end and reading the labels and talking about it all the way down. She said the most amazing thing to me after I had given a presentation about the family history. After it was done she said, "I felt I was born into my own family again." Wow. Thanks again for your role in a wonderful event! You have earned more customers, and I'm sure the word will spread. Thanks!!!!
Kristine F. (Seattle, WA)
Charts arrived Saturday and all look great! Thanks much for a wonderful service. I'm sure I'll be back.
Tom P. (Carrboro, N.C.)
Thank you Larry for the wonderful service. You have been one of the most pleasurable people that I have worked with since starting this project. I will do a little advertising here for your business because it is well appreciated. Thanks again and I look forward to using your service in the near future.
Sidney E. (Norfolk, VA)
Larry, I just got back from a trip to visit my Mom, and was so happy to see my chart was ready and waiting for me when I returned. I am very pleased with the chart, and thanks for providing the paper roll for the center. I can see this is valuable for keeping the chart in good order. I am thankful to you and your wife for providing this service. I have seen outputs from others' ancestry charts, and have tried to print out charts myself but they just cannot compare with the design and the plotter outputs you provide. This is very professional looking, and I know my family will be so happy to pour over these as well. Thanks for thinking to point me in the direction of your help websites. Good information to get my wheels turning. I will definitely be back for more once I get my other 3 ancestor charts completed. I also am thinking about having a 4 generation chart printed with thumbnail pictures for everyone. I still have some work to get this all put together, but again I am very pleased with the results of this chart and look forward to working with you again soon.
Sincerely, Kathi M. (Largo, FL)
I just wanted to thank you for the genealogy chart you printed for me - it is beautiful! I was very pleased with the customer service and couldn't thank you enough for your help and for the quick service. Thank you again!
Andrea T. (Eastpointe, MI)
Hi Larry, I'm very late in replying to you with my thanks for all your help. My mother-in-law absolutely loved the poster! I hope you enjoyed the holidays and wish you a happy new year!
Christine W. (Chicago, IL)
Larry, Printout arrived this morning, and it is more than I expected. Perfect! Great workmanship! Great packaging! I'll be back!
Lynn W. (Scottsdale, AZ)
Good Morning Larry, The charts arrived yesterday afternoon and in a word, "Fantastic". As I mentioned to you, it has been over a year of looking to find a company that had the ability to complete the project you did for me. I'm so excited this part of the journey is over, and hopefully I can repay your kindness by getting more people to use your service. Thank you from the bottom of my heart.
David G. (Carol Stream, IL)
Larry, Beautiful job! I've only unraveled the Donahoe chart a foot or two – can't wait for Thanksgiving when I have 70 feet of tables to roll them out! Your suggestions made good into GREAT.
Thank you again! Steve F. (Lexington, NE)
I couldnt be happier with your product. Thanks so much. Happy holidays!
John H. (Philadelphia, PA)
I received my charts and I have to say I am very impressed. I am very pleased with the end result. Thanks so much for your help. I'm sure you will be hearing from us again.
Roger S. (Kingsville, MO)
Hi Larry, My family tree was a huge success - it was spread out over four 8-foot tables and I encouraged people to make additions and corrections. Even the kids loved it! Parents were explaining who everyone was. The rest of us were having a refresher. Thank you so much for your help.
Beverly C. (Houston, TX)
Words cannot express how thankful I am for you being able to do this for me. Received the tree yesterday & it looks fantastic! I will most definitely be referring you to anyone who is interested in further family tree printings.
Krista K. (Powell, TN)
It came in the mail today. I love it. I think your product is wonderful and your site very helpful. For some reason, I called two other sites before I called yours (even though I had seen yours). Both seemed unorganized and slow. I think I chose those sites first because frankly they had fewer options and the whole thing is kind of overwhelming and I was drawn to the simpler charts. However after I called each one, I knew that I wouldn't use them. I don't know how to improve anything, except I wish I had selected your site first. Thanks!
Lois V. (Pella, IA)
Larry, We had our family reunion this past weekend and the Joseph Jones Descendant Chart was well received. We had to spread it out over 3 tables, and at times the line to see the chart was as popular as the food line! Thanks again for your excellent and quick services. I'll be looking for different charts for you to print in the future.
Sincerely, Andrew J. (Ewing, NJ)
Larry, The Charts have arrived and the reviews are astounding...good job.
Thank you! Neil F. (Winter Park, FL)
Larry, Many thanks for your assistance in the preparation and production of my wife family tree. You have provided us with a very personal, professional and exceptionally patient service.
Kind Regards, Stuart B. (Bristol, UK)
Larry, Received the prints today. They are better than I expected, amazing work. Much appreciated.
Best regards! Ken W. (Pacifica, CA)
Larry, This is my first - and I am sure not my last foray into genealogy charts. You all are extremely helpful and efficient. Thanks so much for everything.
Joann V. (Annapolis, MD)
Just a quick note to say thanks very much for the wonderful family chart you made for me. It is everything I hoped it would be...I will be telling everyone at my family reunion where I got it (it will be prominently displayed), and hope some more business may come your way as a result..
Thanks again, Rick J. (Hollister, CA)
Larry, I got the print. Thanks-it looks great! I will be ordering five more for various family members as Christmas presents, but first I will need to get their names and addresses together to send to you. Also, there may be additional family members that want to order a print from you and pay for it themselves.
Happy Holidays, Randy G. (The Woodlands, TX)
Hi, I just wanted to thank you for doing a wonderful and timely job on my family tree. I will definitely do my updated chart with you in the future. Thank you again,
Helen T. (Waterbury, CT)
Dear Larry, I received my chart today and the only word I can come up with is "WOW"! My kids and I went over the whole chart last night and it was so much easier for them to comprehend how the historical and interesting relatives fit into their past. I will be working on a chart of another of our family lines and I can't wait to see that one printed as well.
Thank you, Lauren M. (Haverhill, MA)
Larry, LOVE IT!!!!!! Thank you so much and I'm sure I'll be contacting you again. My spouse is jealous and wants me to start working on his tree.
Karlise C. (Hamlet, NC)
Larry, I received my genealogy chart today and it is fabulous. The chart is beautifully done on quality paper and it arrived at my home just two days after I ordered it. The shipping package was excellent and the regular permanent tube is wonderful.
Thank you very much. Amy B. (Pickerington, OH)
Larry, I received my chart yesterday. As usual you did a fantastic job printing it, thank you very much.
Myron B. (Chico, CA))
Larry, The chart arrived here on Wednesday and I have returned from my recent travels to see it. I am VERY pleased with the chart! Your printing has made my work look good, and I will be very pleased to show it off to a family gathering in New Zealand next week. Thanks very much for this excellent service.
Best Wishes, Graheme W. (Bellport, NY)
Hi Larry, Thanks again for the charts, the recipients like them very much and told me I couldn't have made a better choice with you folks as a printing company. I'm real happy to hear that!
Thanks, best regards, Bob P. (Hanover Germany)
Larry, We received our chart yesterday! It is beautiful! I was so happy and impressed at the quality of your work! I will be presenting it to my Dad this Saturday at a family gathering to celebrate his upcoming 80th birthday! I know he will enjoy it thoroughly. Thank you and I'm sure we'll be ordering again as the tree info continues to grow.
Gratefully, Ana Y. (Waterford, NY)
Everything looked great. Thanks for making the changes. You guys did a great job.
Tim C. (Romeo, MI)
Received my chart today. Very quick, professional and efficient. We will be doing more business together. Thanks.
Mike G. (Uncasville, CT)
Larry, The Family Tree chart came today. It really turned out good. I can't believe I e-mailed the file to you Wednesday night and received the chart in Saturday's mail. Great service. I can hardly wait until the family reunion in Texas next week. Thanks again.
Oliver M. (Crystal Lake, IL)
You've been so helpful! I appreciate everything: the late calls, the advice over the phone, the titles, etc. I'll recommend you to anyone who shares this hobby!
Heather R. (Canfield, OH)
Hi Larry. Thank you so much for the fast and GREAT service. The printout looks great. I received it today. Have a nice day.
Charlie W. (Cave Creek, AZ)
Hi Larry, I just wanted to let you know that I received my tree in the mail last Friday just in time for Father's Day yesterday. The tree was a raving success and both my Dad and I were very pleased. Thank you so much for all of your help, and for your wonderful customer service! I'll be sure to contact you guys again if I need any further prints of any genealogy projects!
Thanks so much again, Cortney P. (Ontario Canada)
How to Provoke Ancestral Chart Envy - From Megan's June 20, 2006 post on http://megansrootsworld.blogspot.com/2006/06/how-to-provoke-ancestral-chart-envy.html
Want to show off at your next reunion? Or one-up that fellow who's always bragging about his illustrious roots? Why not consider having an impressive ancestral chart produced by Ancestry Graphics & Printing? No, this isn't a commercial, but it is a recommendation from a satisfied customer. I remember maybe 6 or 7 years ago trying to get an oversized, descendancy chart printed for a Reynolds family reunion. I had to scour the internet and the country to finally find a single printing firm that would do it - and even then, it was extremely laborious for me to see the process through.
Fortunately, there are several companies that specialize just in genealogical charts (you'll often see a few of them at the major genealogical conferences), and recently, I had cause to use one -- as it happens, for the Reynolds reunion again. I selected Ancestry Graphics & Printing and was delighted with the process and the outcome. It was easy to follow their instructions for submission, which can be done via email if you like. Then they called me and made a few suggestions. Apparently, size does matter, so I took their advice and allowed them to tweak my file a bit. Within a few days, I received the massive chart (about 20 feet long) in a protective storage tube, even though I had requested a last-minute diversion of mailing address. Over 150 one-inch square faces smiling up at me! Even my 10-year-old nephew, David, was intrigued.
Sad to say, the reunion was called off for reasons unknown to me, but I'm still pleased to have this chart. Someone got the bright idea to laminate the ones from the last reunion, so they're -- yup, sort of washing out. This one is better, more vivid and made to last. I'm sure there are other great printing firms out there, and I'd love to hear about them. But Ancestry Graphics & Printing definitely gets a big thumbs-up from me!
Megan S. (Haddonfield, NJ) Genealogical adventurer and history detective - speaker and author - http://www.megansmolenyak.com/
The chart looks great. Thanks! I'll have the other one to you within a couple of weeks.
Tom P. (Three Lakes, WI)
Larry, I received the charts yesterday and they are fantastic - thank you for the quality of your work and your personal follow-up to insure all the details are correct. The wider paper will serve me well as I can easily add more descendants to our tree (probably with post-it notes). Thanks again, I will recommend your service to others.
Paul C. (Scandia, MN)
Hello Larry, Just wanted to let you know that the family tree print looked great. I was very happy to have it at our reunion. Thanks for your excellent work!
Suzanne M. (Anderson S.C.)
Larry - You and your wife and this company are fantastic. You have answered all my questions promptly and thoroughly. I was terrified of taking this project on, because I didn't know what to do or where to start, but you have really made me feel comfortable and I thank you for it. This is the first time most of these people are meeting each other (at the reunion next weekend) and I know they will all appreciate the beautiful family tree that you have helped me create. Thank you again so much!
Tara S. (Wellesley, MA)
Larry, It looks great. Thanks for putting out a product I could be proud to give my parents. Merry Christmas and a happy new year!
Rich D. (Lemont, IL)
Hi Larry, The trees arrived today. Very fast! And they look great. I'm sure everyone will be happy with them.
Take care, Gary R. (Swannanoa, NC)
Larry, Got my tree a couple of days ago.....it looks wonderful!!! Exactly what I was looking for, even better. Thanks again.
Thanks again, Rita M. (Deptford, NJ)
Hi, Your chart was an absolute hit. We kept it up on the wall of the hospitality suite or the room where we had dinner, and someone was always there, chatting, adding names, telling stories. It made everyone feel connected with the dozens of strangers who'd decided to trek to Las Vegas and see what fellow Finkelsteins looked like. We had a great time, and people were deeply appreciative of knowing where they fit and what their roots were.
You were great at helping me through the process. You were SO user-friendly (which is more than I can say for my software!). You got the chart there in plenty of time. It looked great. We were all happy campers.
Much gratitude from the Finkelsteins. Rose Jonas - The Job Doctor (St. Louis, MO)
Hello Larry, we just returned from out of town and the tree was waiting for us on the porch. Of course, I could hardly wait to open it. It is absolutely amazing!!! I can't begin to tell you how exciting it is to see the hard work put into the tree being transferred to the printed version. I am certain it will be a great hit at the reunion. I've already concluded I will be doing different versions of the tree. For example, I'd like to do a version that includes my mother's line only, as well as a couple of others. Thanks again for your assistance in getting this done in such a creative and enjoyable way.)
Evelyn O. (Southfield, MI)
Dear Larry, I got the package this weekend and opened it today. It is EXACTLY what I envisioned. The quality was perfect. I am glad you were able to do the colors so you can see the different lines (maternal, paternal etc). And I never thought of having a tube/carrying case- this will make taking it to the reunion a lot easier to pack. I am also pleased you were able to produce it so fast. Thank you so much.)
Bev T. (Dallas, OR)
Hi Larry, I want to thank you and let you know that the chart arrived July 18 in fine condition. It looks wonderful and was a real hit at our reunion July 26 in Akron, OH. We had 120 people there and everyone checked out the chart, studied it, and the little children found their names. Even the teenagers were amazed and appreciated what it took to put this together and print it out. Usually teens don't notice such things and that says it was exceptional.)
Found out Sunday that a neighbor is attending a family reunion in September in the Boston area and has been working on his genealogy with Family Tree Maker. I told him about my tree and your company. Also sent him your website and contact info and told him how nice it was working with you. I'm sure you'll be hearing from him soon. Thank you so much for the wonderful service you provide. We are very happy with our tree and so glad we found you to make it happen.
Thanks so much, Jackie R. (Estes Park, CO)
Hi Larry, Arrived back at work in Sydney today and was finally able to have a look at the "Hourglass Tree of Robert Tait" which had been delivered to my desk in my absence. It is absolutely fantastic. I am really pleased with it. Can't wait to present it at our Family Reunion in Melbourne this coming weekend. I'm sure everybody will be impressed. Thank you once again for your efficiency and professionalism.
(And a week later) My trip to Melbourne to the Family Reunion has now been and gone. It was a fabulous afternoon. Nearly 70 people (mostly related) were all in attendance and most of their names appeared on the "Hourglass Tree of Robert Tait". Everybody was astounded at the Chart; words of "unbelievable", "brilliant", "fabulous work" were all heard. The Chart gave the Family Reunion a focal point and everybody was able to understand their place and their relationship with each other. It was a great conversation piece.
Regards, Marie P. (Australia)
Hi Larry, Apologies for the delay but we had our reunion in a place that (gasp!) had no Wi-Fi so I am more belated than I would've liked in saying thank you so much for your wonderful work on printing my two family trees. I got it as planned via FedEx, beautifully packaged and ready to lay out on tables for the reunion. People were so incredibly happy with the trees, I can't express with words how much your work helped us all see our family connections. It was, as we say, a real mitzvah (a gift).
I am at the Jewish genealogy conference in Chicago now. If I get a chance, I will definitely refer people to your service. I was very happy. Thanks again (and again and again!).
All the best, Erika H. (New York, NY)
Hi, Just wanted to let you know that the printed family tree arrived today! It's really impressive to see it in print. I appreciate your assistance in generating this version as well as your identification of some duplicates and odd data stored.
Kim P. (Potomac, MD)
Larry, I got home to Granbury today and picked up the mail. The charts look wonderful. Can't wait to give them to the boys next month at our 50th anniversary party. I will let you know when I am ready to print mine and my husbands and will pass your name along to my genealogy group.
Thanks again. Jill T. (Granbury, TX)
Thank you Larry. You have been fantastic to deal with. Excellent service.
Christine O. (Cork, Ireland)
Hi Larry, Thank you for the amazing family trees! I was amazed when I opened them up! The turnaround time surprised me as well. I kind of figured that it would have had to have been a rush job, but you got it here with plenty of time to spare. I think my relatives will enjoy them, and they will definitely make my job easier explaining this to everyone.
Kellen Q. (Phoenix, AZ)
Larry, I appreciate all your help and advice. Now I am anxious to see the completed product. If you ever need a reference in the Manchester, NH area, I would be glad to give you an excellent one. Someday I may have a chart with pictures made --- it didn't work out this time.
Thanks again. Julie S. (Manchester NH)
Hi Larry, The chart arrived today...all 16 feet of it. It's just what I had in mind. Thank you sooo much for making this so easy and affordable. It will be a first at our Meighen Reunion and I know it will be a big hit.
Thanks again, Jane T. (Port Orange, FL)
Larry, Just wanted to thank you very much for the rush job. The chart blew everyone away at the reunion. Again, thank you very much.
Duane S. (Honolulu, HI)
Larry, received the charts yesterday. They are totally AMAZING!!!!!!!! Everyone will be so pleased! Thanks so much. People are already asking me for pricing and contact info! Thanks so much!
Sharon W. (Milton, DE)
Hi Larry, I must commend you on the service that you and your wife provide. The online information was very detailed and I was impressed when you contacted me by phone within minutes of receiving my inquiry. You have been so supportive and patient throughout and I thank you for that. I look forward to receiving the chart and sharing it with the family. I have four more charts to print and I will be sending those to you early June. Again, mahalo for everything and I appreciate you adjusting the title size to improve the chart.
Aloha, Doreen C. (Lihue, HI)
Thank you so much for the magnificent chart! It was, indeed, the hit of the reunion. I had been a bit concerned about the cost to the reunion committee, but most people asked why I didn't print out the entire chart. Your customer service was exceptional! We will be contacting you for something different next year.
Winnie M. (Houston, TX)
The chart is indeed beautiful. I just returned and opened it and it is exactly what I wanted. Thank you so much for your help in putting this together!
Reine S. (Mendota Heights, MN)
Larry, Received the chart today and am very pleased. Clear crisp printing makes it easy to read. Would pay more for heavy paper next time. Lovely work - thanks to all.
Dave W. (Bainbridge, NY)
Larry, We received the family tree chart last week and are extremely pleased with your work!!! We are having it framed and going to present it to my wife's 80 year old uncle June 22nd. Again thanks for your prompt service , your suggestions and your fine quality work.
Regards, Gary B. (Williamsport, PA)
Good Morning Larry! I have been more than pleased with your service! You were so kind and patient while helping us get the chart right! This kind of assistance and service is indeed rare and priceless! I am certain we will be calling you again as I get the pieces of the rest of the tree put together. This particular branch, for some mysterious reason, just went on without a break for me. Thank you again, you have done more for my family and my dad than you will ever know!
Hope your day is wonderful! Danielle R. (Phenix City, AL)
Dear Larry, Thanks. I received my family genogram and it looks great, and in the next few days I will email you another genogram to print but right now I am working on it.
Regards, Said A. (Rosemont, PA)
Larry, Words cannot describe ... only I'm sure you hear that all the time! The tree was the HIT of our 4 day event and we had a lot of amazing things packed into our 4 days. Instead of having to take it down, we were allowed to leave it up at the hotel for three days where it was never unattended & then we moved it to the next venue because an encore/continued appearance was requested and then it went to yet another venue because it was STILL requested. There wound up not being enough room at the third venue because it was an outdoor tent and there just was not enough room with all the tables and I worried with the humidity that it would not be able to stay up and then it would get ruined falling down. Everyone could not get enough of it ... it was SO fabulous to watch. Now, what I loved, is that the information has not changed on the tree except for new marriages and new "arrivals" ... and we have had some semblance of an entire family tree at every reunion for the last 25 years (and we have these every 5 years) ... but, except for the first one which was hand drawn and quite an amazing site, this was the most studied tree we have ever had. People kept coming up to me and exclaiming about the "relations" that they were making for the first time and I would just giggle inside because the "relation" has been there all along, they have just not "seen" it that way. There was always a crowd in front of it and it was such a conversation starter and the pictures were so appreciated, so I am SO glad it all came together and we have you to thank for that! SO fantastic!!! Your suggestion of putting tape on the edges ought to be mandatory ... it gave the tree a life that allowed it to survive the rough and tumble, up and down, this one went through and it came out seamlessly.
Thank you, thank you, thank you, I look forward to our next project!!!
Fondly, Nancy M. (Columbus, OH)
I picked up the chart on Saturday. It looks very good and I know my mother will love it. Thank you for helping me with the whole process.
Stacy B. (New Braunfels, TX)
Thank you Larry! The charts look fabulous, exactly what I wanted, great job.
Regards, Cris (Glendale, CA)
Larry, Sorry I am so late in acknowledging the receipt of my family tree. I just wanted to let you know that I absolutely loved it. It was a BIG hit at the reunion, especially because no one expected it. I got to meet many more family members as a result of the family tree and will updating and adding even more names to it. I hadn't planned on doing another one for a few years but the family is requesting another one with the updates ..... so hopefully I will be doing business with you again in the near future.
Linda W. (Ivor, VA)
Larry, The charts look great. Love the fan chart! Thanks again for your expert assistance.
Bruce S. (Norfolk, VA)
Hello Larry, My descendant chart arrived today - and it is perfect! I am so glad I went with the 16 point font for the names on the chart. Of course, it is easier to read that way. But I also think it makes the chart more presentable. I'm sure that even the cousins at our reunion who are marginally interested in the family tree will be able to find themselves and follow along the generational lines. The size of it alone will surely draw people in for a look see!
Thank you so much for offering this valuable service to those of us dedicated to our family histories.
Beth S. (Hamden, CT)
The charts arrived on Saturday, and I am very pleased with the end product. Thank you for your interest, suggestions, and very prompt service. I will definitely recommend your service.
Sincerely, Gloria E. (Bridgewater, NJ)
Hello Larry, Thank you so much. Your company was a family reunion saver. I thought that I would be able to save a file, send it to Kinkos and have them print it. After about 30 calls to Ancestry.com and no help, I took to the Internet and your company came up. Your service was excellent. I can tell that you really enjoy what you do. My family reunion is at Westgate Resorts in Gatlinburg, TN. This is our first Family Tree. I am very excited to present it. I am so grateful for your service.
Thank you, Martha D.(Berea, OH)
Larry, I received the charts a couple days ago and they look great. The packaging is great, and will be really helpful for the copies of my chart that will live at the local library and bank. I will have your contact info available to folks in Bruning if they want to order a chart for themselves. I appreciate your responsiveness and the quality of the work. Thanks for your help with this project--it will bring the Bruning Family chart up-to-date for the first time since my grandfather had one printed in the early 1990s with only 4 generations listed.
Michelle P. (Lincoln, NE)
Larry, Thank you very much. It was a pleasure doing business with you. I am anxiously awaiting the charts!
All the best and Happy Holidays, Neil F. (Winter Park, FL)
Larry, I picked up my family chart today. May I say it is terrific.....just exactly what I was hoping for. Thank you so very much.....again you are my hero today!!! Our family will enjoy viewing the history of our roots at our upcoming reunion. It was a pleasure to do business with you!
Sincerely, Rosia B. (Brentwood, TN)
Larry, We received the chart in perfect condition. It is a real work of art. Thanks and we will probably order another one in a few months. I have added many more people to the file. So much so that I think we will have to print the chart in two sections, one from my Dad and the other from my Mother. I will contact you before I send anything so that we know it will work.
Curt L. (Tacoma, WA)
Larry, The chart arrived yesterday and does indeed look very nice! Thank you for all your time efforts and energy. It is exciting to have this wonderful resource and I look very much forward to working with you on another chart, or 2, or 3!
Best Regards, Tom S. (Playa Del Rey, CA)
Good morning Larry – I am following up on my order from last month. The charts arrived safely to my two children and they LOVE them! While they've heard about the various stories I've unearthed over the years of research, seeing the tree puts it into a visual form makes all the difference. We are delighted and so appreciative of the quality of your service.
Happy New Year, Sandra L. (Sacramento, CA)
Larry, I just got home from FL and had a chance to look at my chart. WOW! I'm truly impressed and appreciative. The entire job and process was awesome.
Thanks very much, Carolyn A. (Durham, NC)
Hi Larry, I've been on a business trip most of this week and just reviewed a few of the charts today. They look great. Thanks for calling me on Sunday (Father's day) and offering a few ways to improve the charts. This was appreciated as this was my first time printing the charts for a family reunion. I will certainty recommend your services to others, and I'm sure the charts will be a hit at the reunion.
All the best, George C. (Tyngsborough, MA)
The chart arrived today and is beautifully done! HUGE....but really nice. Thank you for your help and prompt service. My other one will be ready to send next week.
Gemma K. (Edwardsburg, MI)
I have already looked at it and it looks great. Once we finish my mothers side, we will be contacting you for the printing. Thank you so much. I know my dad will love this surprise branch of his tree. I have become an ancestry buff myself searching old books, a few courthouses and even becoming a contributor on Find a Grave. Strange as it sounds, I love the old cemeteries and all their history. I am glad I was able to find your company and would be happy to recommend you to anyone looking to print their family tree.
Happy Holidays, Michelle M. (Houston, TX)
Larry, The chart arrived and John and I think that it is absolutely outstanding. It is even more beautiful than I imagined. Thank you so much and we look forward to printing the Chandler and Sampson trees when we finish.
Myra S. (Buda, TX)
Larry, You are a God send. As I mentioned to you when we first spoke that this past family reunion I had 200 36x48 sheets of paper that I had to tape together for 37 different family trees, the smallest 2 feet and the largest 60 feet. It was a nightmare. I promised myself that when I got back home I was going to look for an alternative. I was Googling something and up popped Ancestry Printing and I started reading. I received my Martin Family Tree yesterday and could not wait to open the package. It was absolutely perfect! I really don't have the words to express how overjoyed I was. The addition of the color pictures is an added bonus. I cannot thank you and your wife enough for thinking of this printing company; I am sure you have been blessed beyond measure because you have certainly blessed me. My family reunion is this weekend, I will let you know the response....
Thank you, thank you, thank you, Cheryl K. (Temple Hills, MD)
Hi Larry, Hope you had a good holiday. The trees arrived Saturday. I opened mine today and it is beautiful - just what I wanted. When the rest of our family trees are completed you will hear from us all again.
Thank you, Clara B. (Los Angeles, CA)
The chart arrived last night (pretty good performance for our postal service), and it is fabulous. The colors and photos are very nice, the text is clear, and I think it will be a big hit at our reunion next month. The tips on storing and displaying are really helpful, too. The chart arrived last night (pretty good performance for our postal service), and it is fabulous. The colors and photos are very nice, the text is clear, and I think it will be a big hit at our reunion next month. The tips on storing and displaying are really helpful, too. I am very impressed and pleased with your service, and if I need genealogy printing again, I will certainly come to you.
Thanks so much! Kee M. (Washington, DC)
THANK YOU!! THANK YOU!! THANK YOU!! The tree just arrived and looks fabulous!! THANK YOU!!
Kathy K. (Carnegie, Victoria Australia)
Larry, The chart looks great! Thanks again for all of your help with 'tweaking' the font and box sizes, etc. And I love the labeled protective tube! What a wonderful way to store this very long chart! I went to your links below as well. Good advice! Thanks! My father (now 88 years old) worked many years on researching his ancestors and relatives. He and I wrote it all up in a book this year and published it for some of the family. This chart for him will be an excellent 'capstone' for his project and a super cool surprise Christmas present! I'm sure it will be a source of great pleasure for him to see in a visual way how everyone is related, and to see how much detective work he accomplished, as his father was an orphan and had only snippets of family information to pass down.
Thanks again for such a great service, and for the amazingly fast turn-around time, and for all the help!
Sincerely, Nancy L. (Pisgah Forest, NC)
Larry, Thank you for the update. As I told you when we spoke, I chose your company because it seemed like you were expert in this type of printing and, obviously, I chose well. Being new to this, I welcome the chance to improve. I am very excited to share this with my husband's family and hopefully gather information I have not been able to find. I know the older generation is very interested; I hope the younger one is as well. I would be happy to recommend you to anyone looking for genealogy printing services.
Happy Holidays to you and your family, Terry B. (Commack, NY)
The banner is wonderful! Thank you so much for all of your excellent service. As you predicted, I already have updates to the information. I will definitely be a return customer next year after I gather more information over the next year.
Thank you, Michele L. (Princeton, NJ)
Dear Mr. Spiegel, I wanted to thank you for the lovely print out of our family tree. It was the focal point of our funeral reception and everyone marveled at the amount of work we had compiled over the years. Thank you for working with us to create the perfect tree.
Sincerely, Adriana H. (Santee, CA)
Thanks, I received the tree and greatly appreciate your professionalism, quality, and fast delivery.
Priscilla C. (Kennesaw, GA )
Hi Larry, I'm sure you never tire of hearing that the chart you printed was a huge hit at our reunion. It looked amazing. There was enough white space at the top to display family artifacts, etc. and it was very touching to see our cousins place pictures of their family, trophies and other memorabilia near the corresponding entry on the chart. I have to admit that I held my breath about spending so much money, but I'm absolutely glad I did. I'm not sure I can get a hall big enough to handle all the additional information I got to add to the tree if I ever have it printed out again. Thanks for your very quick turnout, too.
Mary Jane K. (Branford, CT)
Larry, Sorry for the late response. I received my chart and love it!! I can't wait to share it with everyone at our reunion this Sat.! Thank you again for all your patience and help! I'm sure we'll be doing business again in the future!!
Marena M. (Summerville, SC)
Larry, I am pleased to hear that my order has been so promptly printed and on its way. I am eager to see it and I'm grateful that you made them a priority. I'll let you know when they're in my hands. It's nice to see your excellent level of customer service, from our initial call to your expediting printing, to Saturday shipping - a rare experience these days.
Many thanks, Mark A. (Burlington, Ontario, Canada)
Hi Larry! I should have sent this sooner but trip preparations have been taking up all of my time! THANK YOU for the beautiful printed family tree! It arrived even faster than I expected! I can't wait to take this to the family reunion in Ireland. I showed it to my dad and he loved it as well - I think his exact words were "The Irish cousins are going to go crazy over this". I'm sure it will not only be appreciated by my family, but will help me get additional information for the tree - which may lead me to more cousins! :-)
Jillian C. (San Jose, CA)
Hello – Just wanted to follow up and tell you what a fantastic job you did. The family loved the descendants chart and spend many hours tracking family. We had a 3 day reunion and it seemed like there was always someone in the hallway looking at the family tree.
Thanks so much. Shannon D. (Seattle, WA)
Larry, I just received the ancestry chart and showed it to my husband. It is absolutely stunning! Thank you for the excellent work. When we research more of our ancestry we will definitely be returning customers! I also appreciate the info about the type of paper. The thickness really brought about the elegant nature of the chart as a whole, and the container is a perfect addition to the gift! My husband was so excited to see all of his history at once.
Thanks again! Lauren P. (Charlotte, NC)
Larry, We can't possibly thank you enough for being able to help us with the printing of our genealogy chart. Our family reunion was this past weekend and everyone loved being able to see our history and how we all connect. It was the highlight of the reunion! You did a wonderful job! Thank you and your wife for having this vision and seeing the need to open your company. It's truly an inspiration. We will continue to update our charting and continue to us your services in the future. You guys are and will be highly recommended. You are a blessing!
Thank you, Alice & Ashley W. (Tyler, TX)
Larry, I received my charts on Saturday and they are beautiful and exactly what I was hoping for. Sometimes when you have an idea of what you want it doesn't turn out to look like you visualized it would. My chart turned out looking exactly like I had hoped it would. Thank you for all your help in achieving a great looking descendants chart. I will continue to work on my chart and have it printed again once I add more data to it.
Have a good day, Sandy E. (Milton, DE)
Larry, I'm really excited about the chart. It turned out better than I imagined. You have a first class company with outstanding customer service. I can't imagine how you could be any better. I'm sure I'll be recommending you highly to all my family tree friends and I am also sure I'll be ordering more in the future. The excellence in service that you provide is worthy of high praise and is something everyone interested in genealogy should know about. Please feel free to use any of my comments.
Thanks again. Jim P. (Brick, NJ)
We're so sure you'll love our genealogy printing services that we confidently provide a complete money back guarantee on all orders. We look forward to being able to work with you and your family so that you can enjoy the excitement of having a printed genealogy chart.
Please call us at 630-653-8400 or e-mail us at sales@ancestryprinting.com if you have any questions about printing your family tree charts or submitting your order. International callers can also Skype us if preferred; however, we ask that you email us to set up a convenient time for a Skype to Skype call.  We are located in the central time zone of the U.S. (GMT/UTC-6 and -5 in the summer), and can make arrangements for incoming Skype to Skype calls up to around 10:00 PM local time on most nights. We only accept Skype to Skype calls that have been pre-arranged by email.